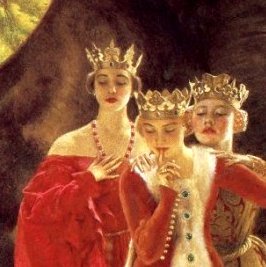 My interests in crafts include painting celtic and other medieval designs. I mainly paint wood: trinket boxes, bowls, cups or signs but am branching out to work with clays as well. (I also painted my shield). I find acrylic paint gives good coverage. I like to finish my work with Future floor polish, I picked up that little hint from someone who paints minatures. It makes the piece nice and shiny.
I also do some garbing for myself and others, but I've included merchants that I frequently below. You may see me as a model in some of these photos.
http://www.pillagedvillage.com/
Pillaged village has great trim and good prices on feast gear. Also, excellent customer service.